It Returns... The Greatest Halloween Costume Contest Ever! Launches on 9/27
Sep 08, 2017
It returns... The Greatest Halloween Costume Contest Ever! It's hard to believe that Halloween ComicFest is only 50 days away. Soon, goblins, ghouls, witches, and more will descend upon our homes begging for tricks or treats on Halloween. Before that, on Saturday, October 28th, comic shops around the world will open their doors for spooky fun on Halloween ComicFest offering free comics to those who pass through their hallowed doors.
A major part of Halloween ComicFest each year is The Greatest Halloween Costume Contest Ever, where fans take pictures of themselves in their best Halloween costume with one of that year's free comics. This year, Halloween ComicFest has 30 free comics--18 full size and 12 all ages mini comics.
The Greatest Halloween Costume Contest Ever is set to return on Wednesday, September 27 when the Halloween ComicFest 2017 mini comics are available in local comic shops for purchase in packs of 25. These are perfect to give away to those little monsters heading your way on Halloween night!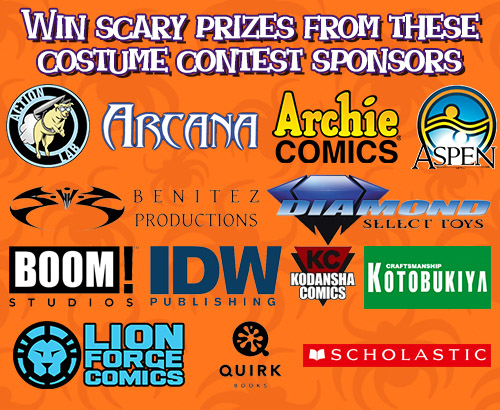 Before September 27, take a look below at how to enter the costume contest and see a teaser of some of the awesome prizes we'll be offering to contestants this year. Each spooky category will have a voted adult and child winner, who receive prize packs from the costume contest sponsors, while 5 adults and 5 children will be randomly selected to win a $100 shopping spree to their local comic shop, with 1 lucky adult and child winning a $500 shopping spree.
This year, The Greatest Halloween Costume Contest will have a scarily cool new category sponsored by one of the Halloween ComicFest 2017 publishers. Be on the lookout for more information on that when the Costume Contest officially launches on Wednesday, September 27th.