Liz Prince and Kat Leyh Dish On BOOM!'s HCF 2017 Mystery Dinner
Sep 12, 2017
BOOM! Studios' BOOM! Box imprint is home to many favorite series in comics: Lumberjanes, Giant Days, Goldie Vance, and more! Writer Liz Prince and artist Kat Leyh team up with editor Shannon Watters to deliver a spooky tale befitting of Halloween night. As the Lumberjanes host a mystery dinner game, they decide to dress up as our favorite BOOM! Box characters, making a crossover-like story of spooktacular proportions.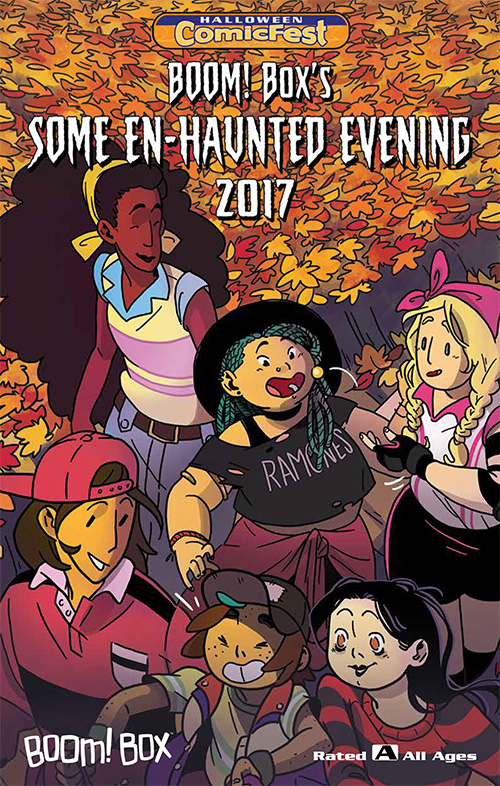 HCF 2017 BOOM! BOX'S SOME EN-HAUNTED EVENING
JUL170056
BOOM! STUDIOS
(W) Liz Prince
(A/CA) Kat Leyh
In this original story by BOOM! Box creators Liz Prince (Coady and the Creepies) and Kat Leyh (Lumberjanes), it's a SPOOOOOOOKY night for the Lumberjanes as Mal, Molly, Ripley, Jo, April, and Jen gather around to dress up and scare themselves silly with a mystery dinner game featuring your favorite BOOM! Box characters! But when the creeps take a turn for the truly terrifying, the girls might find out that this mystery isn't quite what they expected! [ALL AGES]
---
Halloween ComicFest: Where did the idea to do a mystery dinner game come from? What will the game bring out from our favorite campers
Liz Prince: [BOOM! Studios Editor] Shannon [Watters] came to me with the idea that the Lumberjanes should be dressed up as other characters from BOOM! Box comics, so in coming up with situations in which they would be cosplaying, the "mystery dinner game" came to mind as an activity in which the girls could solve a mystery while role-playing!
What other BOOM! Box characters can we expect to make an appearance—how did you choose which ones to include?
Prince: You will see Jen as Goldie Vance (Goldie Vance), Mal as Macy (Misfit City), Ripley as Coady (Coady and the Creepies), Jo as Chris (Hi-Fi Fight Club), April as Esther (Giant Days), and Molly as Jennifer, aka KNOCKOUT (SLAM!). We wanted to use a mix of tried-and-true BOOM! Box favorites, as well as newer characters that readers should check out.
Why should fans pick your comic first on Halloween ComicFest 2017?
Prince: It's spooky adventure starring the Lumberjanes! This book is fast-paced, funny, and will easily fit into the canon of the adventures we've seen from the series.
Kat Leyh: In a way, this comic brings together the whole BOOM! Box family!
What got you reading comics? What are some series you're reading today
Prince: I was a late-'80s convert of cartoons to comics—I liked the Disney books like Donald Duck, Uncle Scrooge, and later, Bone. Today my interests fall more on the graphic novel side of the fence, with a penchant for autobiography.
Leyh: I read TONS of comics now, anything by Chris Samnee, Erica Henderson, Lucy Knisley, Noelle Stevenson, and others. What got me reading comics originally were manga titles like Naruto and One Piece. I still read One Piece.
What spooky Halloween titles would you recommend to new readers
Leyh: My favorite spooky titles are Over the Garden Wall, Hellboy, and Harrow County.
Prince: Scary Godmother by Jill Thompson is a beautifully illustrated, all-ages comic featuring a Halloween theme that is definitely worth seeking out. I also quite enjoy the old EC Tales From the Crypt, Vault of Horror, and Haunt of Fear comics, which by today's standards, seem pretty tame.
Why do you think events like Halloween ComicFest are great for the comic book community
Leyh: It's a chance for comic book characters to celebrate one of the best holidays! And it's the perfect holiday for cosplayers.
Prince: Trick or Treating at local shops has been a long-standing tradition, and being able to take home a comic that you can read over and over again is far more appealing than a piece of candy that you'll eat once and forget about! Oops, I think everyone can now tell that I was the total nerd bookworm when I was kid...
What do you think comic shops bring to the comic book community?
Prince: Comic shops, if they offer a wide range of different comics and graphic novels, allow you to build your interests by exposing you to a variety of different genres and formats that you might not normally encounter. Through reading Disney comics as a kid, I started visiting comic shops, eager to see what else there was to read, and from there I found small press and self-published books. It put me on the path to becoming the comic writer/artist that I am today!
Leyh: Community. It's a physical space that's always there and you're likely to find other like-minded individuals there or working there. Without the shops, there wouldn't be a "comic book community."
Where do you plan to spend Halloween ComicFest 2017?
Prince: In my hometown of Portland, Maine!
Leyh: Very likely I'll be at my favorite shop here in Chicago!
---
You can find BOOM! Box's Some En-Haunted Evening on Saturday, October 28th on Halloween ComicFest at participating local comic shops. Some En-Haunted Evening is one of the 12 all ages mini-comics and is available to purchase in packs of 25 for $4.99 at local comic shops starting on Wednesday, September 29th.