Artist Robert Hack on How Writing Sabrina is "A Solemn Responsibility"
Oct 24, 2017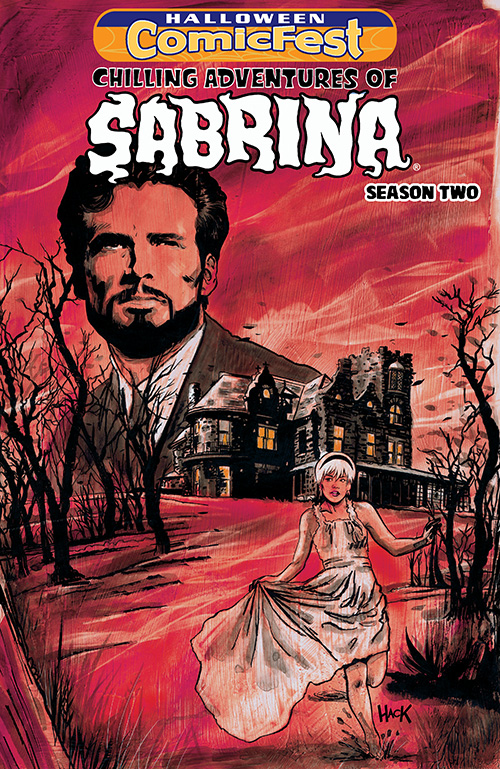 HCF 2017 The Chilling Adventures of Sabrina
JUL170023
ARCHIE COMICS
(W) Roberto Aguirre Sacasa
(A/CA) Robert Hack
Kick off Halloween with the horror adventures of Sabrina the Teenage Witch! Learn the haunting back story of Sabrina's father, Edward Spellman. [TEEN]
---
Halloween ComicFest: What was it like taking a character like Sabrina that was brought into the mainstream with the television series to this darker, more twisted version?
Robert Hack: A solemn responsibility! Seriously, we love Sabrina and the rest of the cast. Roberto and Jack and I are certainly doing our subversive best to bring the horror, but it comes from a place of love.
What should new fans know about previous issues before diving into the HCF comic?
This issue is mostly a stand-alone story, and a great jumping-on point. But the set-up is that Sabrina's boyfriend, Harvey, has just miraculously come back from being gruesomely murdered ...but he's not quite himself.
Why should fans pick your comic first on Halloween ComicFest 2017?
Peer pressure. All the cool people are doing it. And that's the best reason to do anything. Oh, you want an answer that won't get us all sued? Sure thing. This is my favorite issue that we've done so far. I'm really excited for this one to be a ComicFest pick and to expose new readers to our twisted little corner of Archie Comics!
What got you reading comics? What are some series you're reading today?
That's all my brother's fault. Brian's a few years older and was big into comics when I was little, He taught me about Kirby and Ditko and C.C. Beck and other great artist before I could even read the comics myself. And then it was comic history books and collections from my local library. I must have checked out Jules Feiffer's The Great Comic Heroes and Crawford's Encyclopedia of Comic hundreds of times. Currently, I'm amassing a giant tower of comics that I'll definitely read when I get a break in my deadlines. I'm picking up all the Mike Mignola books, Francvilla's The Spirit, Cave Carson, Weird Love and Haunted Horror.
What spooky, Halloween titles would you recommend to new readers and why?
I know it's total pandering to hype the other Archie Horror titles here, but they're damn good comics that I would plug regardless. I'm also a sucker for older horror comics- The EC stuff (Vault of Horror, Tales from the Crypt, etc.) and the Warren magazines (Creepy, Eerie). That stuff is all kinds of great and a huge influence on what's we're doing with Sabrina.
Why do you think events like Halloween ComicFest are great for the comic book community?
It's such a brilliant idea! A big communal event that showcases the awesomeness that comic shops have to offer. A unique experience that can't be matched by online shopping.
Where do you plan to spend Halloween ComicFest 2017?
Still working this out. I think it will be at one of the three NEW DIMENSION COMICS shops in Pittsburgh, but we're still discussing.
---
You can find Sabrina on Saturday, October 28th on Halloween ComicFest at participating local comic shops. To find a participating shop near you, use the official Halloween ComicFest 2017 Store Locator.