The Lunch Witch Returns In Time For Halloween
Aug 24, 2016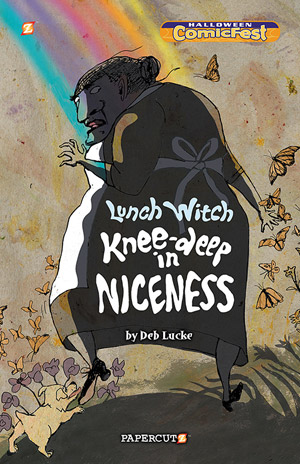 Grunhilda the Witch has a weakness, a tiny soft spot on her black and crusty heart. She continues to hide the nice feelings she has when she gets a letter from former Salem Elementary student Madison. But she can't keep up the ruse for long because her familiars are onto her - and so are her ancestors! Anything that can go wrong does when Madison accidentally mixes up a positivity potion - and it starts to affect everyone in town.

Order the mini-comic from Papercutz now at your local comic shop to give out on Halloween. It's only $4.99 for a pack of 25 mini-comics!
Read out interview with writer/artist Deb Lucke below!
---
Halloween ComicFest: For those unfamiliar with The Lunch Witch, how would you describe the events of the first book?
Deb Lucke: The world has changed, people no longer are fearful and superstitious, and that puts a witch named Grunhilda the Black Heart out of work. Her only qualifications involve making large vats of brew out of foul-smelling ingredients which leads to her finding a job as a lunch lady. She enjoys tormenting the children with their lunches, but her fun is cut short when Madison catches on to her secret. Madison threatens to lure Grunhilda off the straight and narrow path of wickedness and into the dark woods of friendship. Something which upsets Grunhilda's dead ancestors.
Halloween ComicFest: What about Madison resonated with Grunhilda the Witch?
Deb Lucke: Both Madison and Grunhilda are outsiders. They are new to the school. As school staff, Grunhilda is practically indivisible to the school children. But Madison sees her. Truly sees her, which is also scary.
Madison insists on sharing with the witch despite Grunhilda's attempts at rejection. Finally, Madison confesses a fear which Grunhilda can relate to from her own terrible childhood, the fear that she is stupid. Grunhilda cannot allow that.
Halloween ComicFest: What are some of the messages you want to get across to kids in The Lunch Witch 2?
Deb Lucke: The message is that you must be true to your own heart.
Halloween ComicFest: Do you have any stories about mean lunch ladies from your childhood?
Deb Lucke: I thought it was incredibly mean when the lunch ladies got together, sliced hot dog buns in half on the hinge, poured chili on top, made a mast out of a toothpick and a sail out of a slice of American cheese, called it a "Chili-Boat" and served it to us for lunch.
Halloween ComicFest: What are some of your favorite all-ages comics?
Deb Lucke: Blueberry by Jean-Michel Charlier and Moebius, Anya's Ghost by Vera Brosgol, Epileptic by David B., Aya, Life in Yop City by Marguerite About and Clément Ouberie., Tintin by Hergé
Halloween ComicFest: What are some of your favorite Halloween movies or monsters?
Deb Lucke: The Headless Horseman, The Corpse Bride, Beetlejuice, The Box Trolls, Delicatessen, The Adams Family.
Halloween ComicFest: If fans enjoy The Lunch Witch 2, what other comics would you recommend?
Deb Lucke: Marvel's Squirrel Girl, The Hilda Series by Luke Pearson.

Find a comic shop to celebrate Halloween ComicFest 2016 on October 29th!