Writer S.A. Check On How American Mythology Is "Not Trying to Redo the Wheel" with Casper
Oct 11, 2022
Who says ghosts have to be all about frights and scares? American Mythology and writer S.A. Check laugh in the face of the harrowing Halloween experiences by bringing back the world's friendliest ghost: Casper and the cabal of Harvey Comics characters, including Wendy the Witch, Hot Stuff and others. Halloween ComicFest sat down with Check to talk about the ghoulish presence of Casper and friends!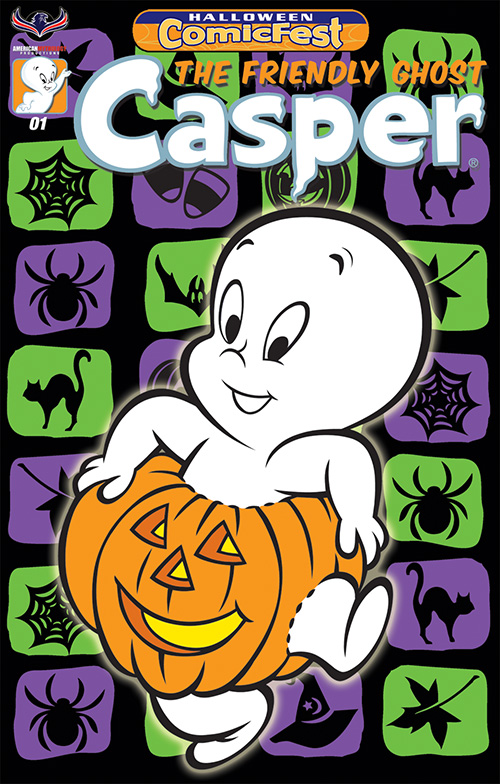 Casper the Friendly Ghost
AMERICAN MYTHOLOGY
(W) S.A. Check
(A) Warren Kremer
It's Halloween and Casper the Friendly Ghost wants some new friends to help him enjoy the spookiest holiday of the year. Join everyone's favorite spectral pal on a host of classic Halloween adventures with these great Halloween Comicfest Mini-Comics, which are perfect for ghost and goblin trick-or-treaters! Spread friendship instead of fright with classic Casper fun and tales the way you remember them! [ALL AGES]
---
Halloween ComicFest: What new characters and friends can we expect to see in the newest Casper comic?
S.A. Check: We've really taken the "if it isn't broke, why fix it?" approach with our new series of Casper stories. Casper, Wendy the Witch, Hot Stuff, Spooky, the Ghostly Trio, Nightmare…these are the characters that fans love, and they are the ones we will showcase in our comics. All of them have such long histories, I don't think we'll have a problem finding new stories to tell. I've seen a ton of great Casper stories already in the works. As for Casper's friends, he'll be making some new ones, of course, along the way, whether it's the shy little girl, the lonely turtle, or maybe even a space alien?! We'll also be bringing back the super popular "Casper And…" series, where we team up Casper with a new cast member every issue.
How will this version of Casper be different from previous iterations of the character?
We're not trying to redo the wheel. We don't want future Casper, slightly edgier Casper, robo-Casper, teen angst vampire Casper. We want the Casper that the whole world is familiar with and has grown up loving. Our motto around the hallowed halls of American Mythology are to produce comics "For Fans by Fans". That's what we do. Everyone, and I mean everyone, who works on the Casper books loves the character, and it shows in the work we're producing. From the stories I've seen so far, and scribbled out a few myself, they really balance the line between nods to the golden days of comics to stories that kids today will appreciate. We put a lot of thought into each book, to make sure we're paying homage to where Casper has been but keeping an eye forward to take him somewhere new.
Casper originally came out in 1939—what makes him such a timeless character and would he still resonate with audiences today?
There's not a person in the world, old or young, boy or girl, billionaire or brick layer, that can't relate to Casper. He is the personification of the most basic of human wants – to fit in. He doesn't care what clothes you wear (did that just rhyme?), where you're from, whether you're human, or dog, or guinea pig, or frog (I just did it again! – I'm on a roll, here people). He just wants to be your friend – no strings attached. He's for the lonely, the outcasts, the I-just-wanna-play-too's. It also doesn't hurt that he's a character recognized around the world through comics, cartoons, a few movies, and merchandise from t-shirts to lunch boxes. He's easily in the top 50 most recognized cartoon characters in history. And now, we get tell new stories. That's pretty exciting.
Why should fans read your comic?
Ummm…he's Casper the friendly GHOST! Is there a comic more appropriate for Halloween ComicFest? I think not! Seriously, Casper is what Halloween ComicFest is all about. So, you're a parent and you bring your little ghost, goblin, ninja, superhero, some crazy thing off the internet we can't pronounce right, into your local comic shop and you see their offerings for HCF, and there shining like a jack-o-lantern on a front porch is the HCF edition of Casper. It's a no-brainer! Casper is a trusted brand in comics, meaning that you know what you're getting with the little spookster. It fun, it's family friendly, and free! That's four F's people, you can't top that! That said, I've seen the list of all the books coming out for Halloween ComicFest from all the companies participating, and there are a ton of great reads out there to check out – AFTER you grab a copy of Casper.

What got you reading comics? What are some series you're reading today?
Potting soil. You heard me. Potting soil started my love of comics, in a way at least. We had a locally owned grocery store in the town where I grew up, around the same time dinosaurs roamed free across the lands. Anyway, part of that grocery store was also a lawn and garden store, a place to buy plants, grass seed, stuff like that. And there, within those stinky, smelly, aisles was a squeaky rack of comic books. That's where I bought my first comics. They were just a little bit of magic back then, and I couldn't get enough of them. I've been a fan ever since, of comics, not potting soil.
What spooky, Halloween titles would you recommend to new readers and why?
I'm going to take the high road of self-interest here and plug all our comics at American Mythology. Especially with HFC in mind, we've got a great run of kid-friendly titles like the Three Stooges (which I also write, cough…cough…shameless plug), Pink Panther (got a couple stories in there – who said that?), Underdog (oh look, I wrote some of those too – what a coincidence), Rocky & Bullwinkle (how'd I miss writing for that one), and, of course, Casper! But really, there are a ton of great comics out there for kids today, and I'd strongly suggest readers giving some of the independent titles out there a try.
Why do you think events like Halloween ComicFest are great for the comic book community?
I think it's a wonderful program. It brings together two of my favorite things – Halloween and comics books! My daughter was born on October 31st, so we've kind of taken an extra shine to that time of year and plan a lot of fun, scary family outings around then. Much like Free Comic Book Day, it gives readers a chance to check out a book maybe they normally wouldn't, which just helps everybody. I think HCF is special because it centers around such a fun holiday and is the perfect time to dress up in a costume and go visit their favorite characters at their local comic shop. There's a pretty wide range of books offered this year to satisfy every boy, girl, daddy, or mummy – yeah, I went there.
What do you think comic shops bring to the comic book community?
I think comic book shops are one of the last few industries that are owned primarily by independent retailers. There's not one chain that has pretty much cornered the market across the country. That said, each shop I go in, and I try to visit as many as I can when I travel, are their own little worlds created by the person running that particular store. They have their own flavor and style, and I think that the folks who buy their comics there feel a certain vested interest in the shops and enjoy supporting them. I would like to see a wider variety of independent titles in shops. I think readers, young and old, are always looking for new titles to read, and there are some really great indie books out there that aren't always getting in the hands of fans. Take it from a guy that used to buy his comics off a rack beside the pesticides, my advice it to support your local comic shops, be glad it's there, and make sure you participate in Halloween ComicFest this year!