Halloween ComicFest 2017 Full List of Comic Books Announced!
Jun 20, 2017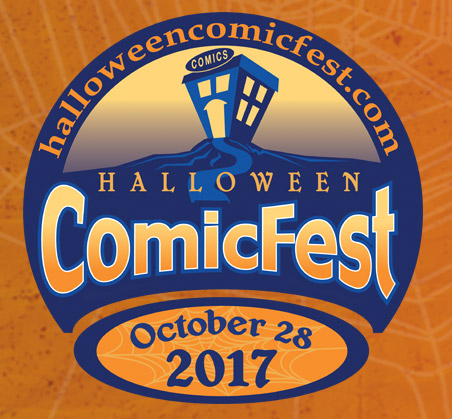 ---
Halloween ComicFest (HCF) is proud to announce the full list of comic book titles for the comic book industry's most anticipated fall annual event! HCF takes place every year on the Saturday on or before Halloween at participating comic shops worldwide, with this year's event taking place on Saturday, October 28.
This year, HCF features a whole new selection of 30 comics--18 Full Size and 12 Mini-Comics--and features comics for everyone: from tiny goblins and ghouls, to witches and warlocks, to crypt-keepers and zombies alike. The Full Size comics have a wide range of stories from all ages, to teen, and mature ratings; whereas, the all-ages mini-comics are perfect for the trick-or-treaters in your life! The mini-comics are available to purchase in packs before Halloween ComicFest and are encouraged to be given out in classrooms and to trick-or-treaters on Halloween night.
"We're so excited for Halloween ComicFest this year," said Halloween ComicFest spokesperson Michael Moccio. "Halloween ComicFest continues to grow year after year and with this year's selection of titles, we're confident 2017 will be no exception. There's definitely something for everyone, and we're excited for all the trick-or-treaters this year to get a whole new batch of mini-comics featuring a great variety of titles!"
A complete listing of all 30 HCF titles, including the 18 Full Size and 12 Mini-Comics, can be found in the July issue of Diamond Comic Distributors' PREVIEWS catalog, on sale at all comic shops June 28, 2017. Fans are encourage to pre-order the mini-comic polypacks in July to ensure they're available at their local comic shop come October!
Halloween ComicFest 2017 Full Size Comics
BLACK BETTY #1
ACTION LAB
BABYTEETH #1
AFTERSHOCK COMICS
THE CHILLING ADVENTURES OF SABRINA
SEASON 2
ARCHIE COMICS
CHOOSE YOUR OWN ASPEN ADVENTURE
ASPEN COMICS
LADY MECHANIKA:
LA DAMA DE LA MUERTE #1
BENITEZ PRODUCTIONS
HELLBOY AND THE BPRD: 1953
DARK HORSE COMICS
BATMAN: NIGHT OF THE MONSTER MEN
DC COMICS
DC SUPER HERO GIRLS
DC COMICS
GHOSTBUSTERS: DIA DE LOS MUERTOS
IDW PUBLISHING
BATTLE ANGEL ALITA/
SAILOR MOON ETERNAL
KODANSHA
RUNAWAYS #1
MARVEL ENTERTAINMENT
STAR WARS: DARTH MAUL #1
MARVEL ENTERTAINMENT
THOR BY WALT SIMONSON
MARVEL ENTERTAINMENT
THE TICK #1
NEW ENGLAND COMICS
JUNJI ITO'S SHIVER
VIZ MEDIA
MALIKA: DRAGON TRIALS
YOUNEEK STUDIOS
THE MORTAL INSTRUMENTS
YEN PRESS
GRIMM TALES OF TERROR
ZENESCOPE
Halloween ComicFest 2017 Mini-Comics
CASPER THE FRIENDLY GHOST:
HALLOWEEN TREATS
AMERICAN MYTHOLOGY
GAO #1
ANTARCTIC PRESS
HOWARD LOVECRAFT AND THE
UNDERSEA KINGDOM
ARCANA STUDIO
ARCHIE'S MADHOUSE
ARCHIE COMICS

BOOM! BOX'S SOME
EN-HAUNTED EVENING 2017
BOOM! STUDIOS

DONALD DUCK'S HALLOWEEN SPECIAL #2
IDW PUBLISHING
WRAPPED UP
LION FORGE
HOTEL TRANSYLVANIA
PAPERCUTZ
STITCHED
PAPERCUTZ
THE WITCH BOY
GRAPHIX
MOONLIGHTERS
SPACE GOAT PUBLISHING
POKEMON: OMEGA RUBY
AND ALPHA SAPPHIRE
VIZ MEDIA

For more HCF news and updates, visit www.halloweencomicfest.com and become a fan on Facebook at https://www.facebook.com/halloweencomicfests/ and follow on Twitter at https://twitter.com/halloweencomic.