Editor David Gerstein on Why "You've Got To Feel" For Donald Duck
Sep 07, 2017
Donald Duck is one of the most well-known Disney characters, and not just because he hangs around Mickey and Goofy. This loveable duck often gets the short end of the stick in situations, causing him to go ballistic. His hilarious and understandable reactions have connected audiences to him for generations, making him a truly timeless character. Halloween ComicFest is excited to have this iconcic character a part of the event, and we sat down with the original editor of the Donald Duck comics David Gerstein to talk about the comic.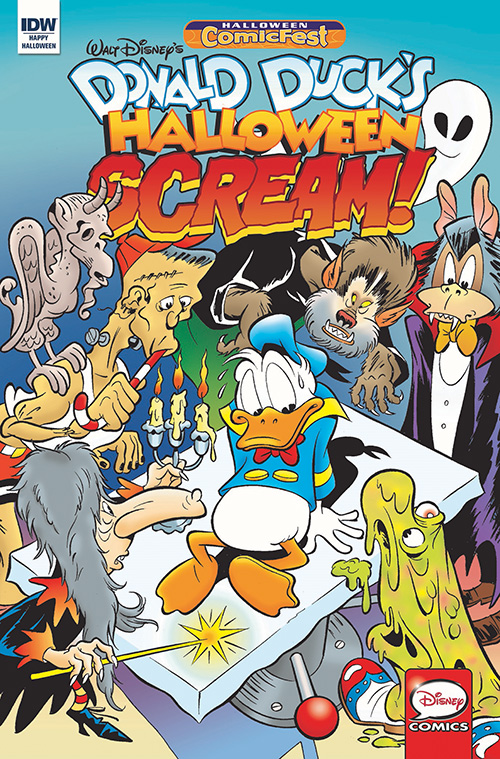 HCF 2017 DONALD DUCK HALLOWEEN SCREAM #2
JUL170057
IDW PUBLISHING
(W) William Van Horn
(A) William Van Horn
(CA) Daniel Branca
"Kid Stuff!" Master painter Donald Duck thinks he's a new Rembrandt - but with a little help from his nephews, he's about to meet his match in a haunted house! [ALL AGES]
---
Halloween ComicFest: What makes these Disney comics timeless? What about Donald Duck makes it so fans of all ages want to read his stories?
David Gerstein: Donald is a waddling catalog of bad habits. He's got a bad temper, a huge ego, and he'll stick with a bad idea till it hits everyone on the head. But in spite of it all, Donald still manages to gives a darn about Daisy, Uncle Scrooge and his friends - even when they drive him nuts. Even when he's stuck with all the bad luck. So, as wrongheaded as Donald Duck is, you've got to feel for him, and admire his dogged (duckged?) determination!
And in the bigger picture, what other Duck mixes slice-of-life stories with awesome treasure hunts AND superhero and secret-agent tales? Disney Duck stories really do have something for everyone.
Master painter Donald Duck and his nephews vs. a haunted house: what kinds of spooky obstacles will the house throw at them?
That's for us to know and you to find out! Donald's actually never painted a house before, but his amazing ego tells him he can be the best painter ever - beyond other house painters, more like a fine artist. "Even Rembrandt had to start somewhere." He's such a brat about it that his nephews decide to troll him, and when they hear the house is rumored to be haunted, they think they'll fake some spooks, Scooby Doo-style. The weird stuff starts when they discover they're not the ONLY ones spooking…
Why should fans pick your comic first on Halloween ComicFest 2017?
Because ours has an extra large helping of scares and spooks, and master cartoonist William Van Horn, and a duck singing a song that goes "I had an alligator, and her name was Nell." It really is that simple.
What got you reading comics? What are some series you're reading today?
When I was five, my parents bought me a book of Mickey Mouse stories that reprinted the 1934 comic "The Captive Castaways," by the great Disney master Floyd Gottfredson. Just the concept of pirates was thrilling, and when Mickey fooled them by pretending to have become a pirate, himself, he became my hero! Mickey sees trouble as an adventure and dives right in - even if he's usually sorry later!
And then, of course, I fell for Donald Duck too, because he gets into trouble trying to stay OUT of trouble, which was just as much fun.
What am I reading today? Scott Pilgrim by Bryan O'Malley. The Thrilling Adventures of Lovelace and Babbage by Sydney Padua. Anything drawn by Gisele Lagace or written by Roger Langridge. Chip and Walter, a webcomic by my colleague Jonathan H. Gray (who also works on our Disney comics).
What spooky Halloween titles would you recommend to new readers?
Lagace and Langridge recently teamed up on a Betty Boop miniseries that's perfect for Halloween. Ghosts of all kinds live almost like mortals in Betty's world, even holding down jobs, and that becomes an issue when Betty's skeleton bandleader friend is framed by an evil spirit.
I just said "skeleton bandleader" un-ironically. What a time to be alive. (…Or dead, I guess.)
Other Halloween books? Various Little Lulu reprints have the amazing John Stanley stories with Witch Hazel. And I can't not mention our own IDW Disney line: beyond the Donald freebie, this year's Uncle Scrooge has a great spook-story with multiple evil witches, and you can still buy last year's Disney Giant Halloween Hex, with an awesome 57-page story starring Scrooge's old enemy, Magica De Spell!
Why do you think events like Halloween ComicFest are great for the comic book community?
It's a longterm thing that comics readership is down - so we've got to expand beyond traditional superhero stuff to grab other kinds of readers.
Halloween is a great time to sell spooky books, horror books, and comedy books, with everything converging on witches, ghosts and goblins - all of which the best comics do so well, and all of which appeal to an audience that isn't always geared to comics.
It's a great way to reach out!
What do you think comic shops bring to the comic book community?
Plain and simple - the chance to come in and browse and experience titles and creators and adventures that readers might otherwise never see. Anyone can buy comics online, but an actual, physical comic shop gives the great opportunity to discover books and creators you didn't know were out there.
Where do you plan to spend Halloween ComicFest 2017?
With someone special, our jack-o-lantern, and a huge meal that may or may not include duck!
---
You can find Donald Duck Halloween Scream #2 on Saturday, October 28th on Halloween ComicFest at participating local comic shops. Donald Duck is one of the 12 all ages mini-comics and is available to purchase in packs of 25 for $4.99 at local comic shops starting on Wednesday, September 29th.