Creator Joe Benitez On How Lady Mechanika is "Flawed, Not Perfect"
Oct 26, 2017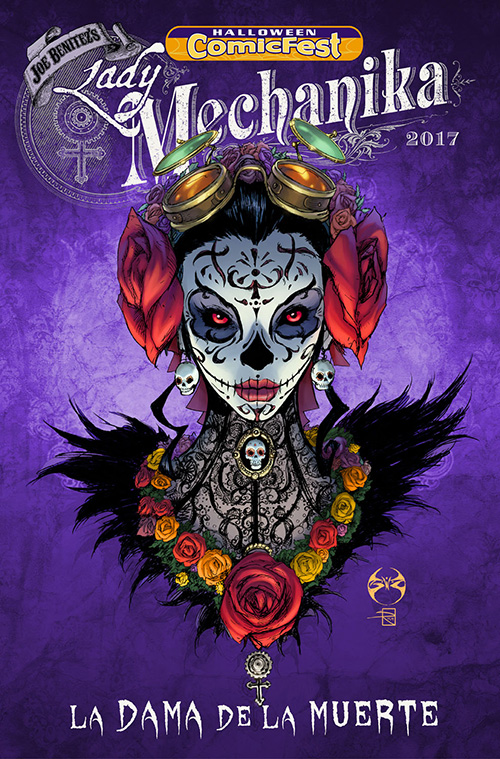 HCF 2017 Lady Mechanika: La Dama de la Muerte
JUL170025
BENITEZ PRODUCTIONS
(W) Joe Benitez, M. M. Chen
(A) Martin Montiel, Peter Steigerwald
(A/CA) Joe Benitez
After suffering a tragic loss, Lady Mechanika takes a trip to a small Mexican village just in time for their Día de los Muertos celebration. But the festivities turn truly deadly after the arrival of the Jinetes del Infierno, the mythical Hell Riders! Includes the first chapter of the Lady Mechanika Day of the Dead special, collected in the La Dama de la Muerte trade paperback. [TEEN]
---
Halloween ComicFest: Lady Mechanika is a London detective—what will changing the setting to a small Mexican village reveal about her character now that she's out of her home turf?
Joe Benitez: This particular story takes place about 10 years prior to the current storyline. It reveals some of her past, something tragic that happened to her when she was younger, and shows a bit of why she is the way she is now.
What is Lady Mechanika's most defining traits? What makes her resonate with readers?
She's flawed, she's not perfect. Even though she's half mechanical and struggles with that, with being different and how others perceive her because of that fact, and also her own doubts about her humanity, despite all that, she is human, sometimes more human than the fully biological humans that she interacts with.
Why should fans pick your comic first on Halloween ComicFest 2017?
It's easy for new readers to dive right in. You don't need to know any long backstory or anything about the characters. And instead of the usual Halloween, we give you a taste of what Dia de los Muertos (Day of the Dead) is all about. This book isn't for everyone though. We wouldn't recommend it for kids. The subject matter is, naturally, death, and the tone of our story is pretty serious and also very violent. Parental discretion is advised.
What got you reading comics? What are some series you're reading today?
I first got into comics because of GI Joe. I had always loved the toys and cartoons and after I saw a comic at the local grocery store, I was hooked! Now I'm more a fan of the art. Even from the very beginning i was following artists, and now I tend to buy comics more so on the art than on the story or title or characters. I haven't actually been able to follow any of the new storylines because I don't have the time!
What spooky, Halloween titles would you recommend to new readers and why?
Hellboy because it's one of my favorite characters. He's cool, and one of the best designs in comics. Little known fact, Mike Mignola and Hellboy was one of my inspirations for Lady Mechanika.
Why do you think events like Halloween ComicFest are great for the comic book community?
It gives people a chance to try books they haven't read before or maybe even heard about. And even better, it gives people who've never read a comic at all to try one!
What do you think comic shops bring to the comic book community?
I think they are the heart and soul of the comic community. We would not exist without all the great comic shop owners who are willing to take a chance on an indie publisher and carry our books. Where else would people learn about new books? Most people learn about them at comic shops, either seeing them on the shelves or as a recommendation from the store personnel. We've had a lot of readers say that they started reading our book, started reading comics period, because a comic shop recommended our book to them, as something easy for new readers to pick up and that is different from the usual iconic superheroes which non-comic readers may not be as interested in.
Where do you plan to spend Halloween ComicFest 2017?
I don't know for certain yet, but I may actually be in France for a convention and signing tour. Unfortunately, they don't really do Halloween over there!
---
You can find Lady Mechanika on Saturday, October 28th on Halloween ComicFest at participating local comic shops. To find a participating shop near you, use the official Halloween ComicFest 2017 Store Locator.