HCF18 Interview: Source Point's HCF Title Promises a Royal Rumble of Monsters, Robots, and Vampires
Aug 22, 2018
When you're a kid, you're scared that there's a monster under your bed or in your closet. But what if you had a monster looking after you? Is that even scarier?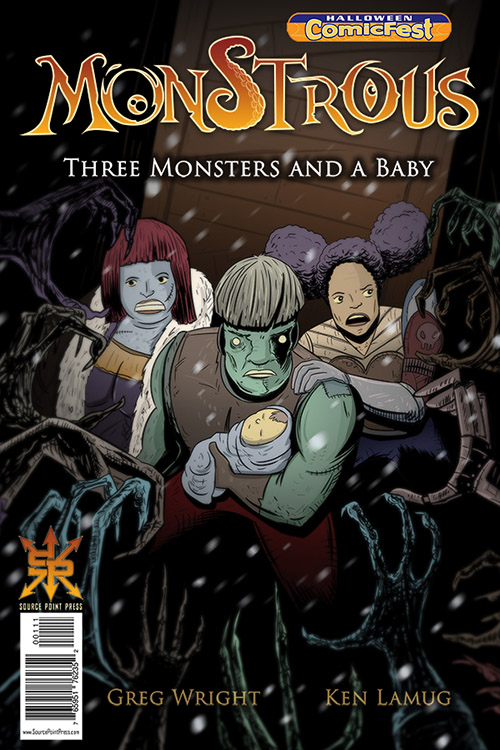 Well, not if it's the bumbling monsters from Source Point's Monstrous: Three Monsters and a Baby! These awkward, low-rent thieves spend as much time making fun of each other as they do trying to pull off their latest heist. But when they become the guardians of a baby sought after by Dracula and his goons, they prove that "the good guys are not all that good, and the bad guys are not all that bad."
Read our interview below with Monstrous creator, Greg Wright, to find out what half-planned antics and light-hearted humor fill the pages of Source Point's Halloween ComicFest book, Monstrous: Three Monsters and a Baby! Then, make sure to check out the preview pages at the end of the interview and click here to see the full list of comics available at participating comic shops on Saturday, October 27!
---
Halloween ComicFest (HCF): For those who might be unfamiliar with the Monstrous series, how would you describe its universe?
The Monstrous universe boils down to a world of steam-powered robots fighting monsters, set in Frankenstein's Europe. Dr. Frankenstein made his famous creature, and that creature then went on to make monsters of his own. So, Dr. Frankenstein created robots to help counteract the age of monsters he unleashed.
There are lots of fun, weird, and memorable characters in this setting, as these ongoing skirmishes allow the series to introduce vampires, zombies, and werewolves, all trying to figure out this emerging new world. The good guys are not all that good, and the bad guys are not all that bad. Everybody is a little bit monstrous.
HCF: Give us a quick rundown of your story and what fans can expect from your title!
Although the stories have serious themes like redemption or the high cost of revenge, the main focus is on fast-paced adventure and fun. The issues tell separate stories that weave together, and "Three Monsters and a Baby" focuses on monster criminals who pull a bank heist but wind up babysitting during their escape. Plus, Count Dracula is after the baby, so they have to protect her while dodging his vampires, the town's police force, and a robot army.
The story has lots of humor, heart, and action. Also, part of the fun of Monstrous lies in seeing famous monster characters pop up in unlikely places. It's a title that's full of surprises!
HCF: Talk about the relationships between the three monsters and the baby. In what ways do they affect each other?
In the beginning of the story, the monsters are bumbling criminals who think they are smarter than the locals. They are basically monster versions of The Three Stooges. But when they wind up inheriting a baby, they're forced to try to be a bit more gentle and considerate. Instead of squabbling and fighting with each other, they need to work together to keep a little baby safe. It wasn't part of their escape plan, but they know they need to rise to the challenge of the situation. But hey, they still stay kind of goofy and dumb!
HCF: What has been your favorite part of the book or main character(s) to tackle?
These characters are incredibly fun to write. They are overconfident despite being incompetent. Watching them bicker and banter is a pure pleasure, especially when I see my artist Ken Lamug translates their slapstick so seamlessly onto the page. It's a challenge to balance the very real threat of Dracula and his vampires with the light-hearted humor of awkward, low-rent thieves, but it's pure joy to see those elements weave together. Making the characters and dialogue fun and funny is incredibly rewarding. Plus, I get to be the first person to see what dumb things these monsters say next…
HCF: What is your favorite thing about working in comics?
I have always loved comics, and I want to cheat by saying that I love all the parts of the process involved with working in comics. But, in all honesty, I do have a favorite thing, and that's meeting fans who enjoy what I'm doing.
I'm telling stories that I get exhilarated about, the kinds of things I enjoy and want to see more of in the world. And when I see that enthusiasm mirrored in someone who checks out my comics, it's a real thrill. I have had a lot of younger fans in particular—older fans sometimes hide their excitement because growing up is boring—who tell me how inspiring it is to read these stories. They're having fun, they're reading, and I love to see that happen.
HCF: Many newcomers will be introduced to comics for the first time on Halloween ComicFest – what was the first comic you remember reading?
I don't think I remember a time before I was reading comics! That said, the first comic that I was really invested in, the one that kept me coming back issue after issue was Spawn. That might not be a surprise since I'm now writing monster comics of my own, but I thought the art was gorgeous and the story was different from everything else I was reading. And, as people might be able to put together, since Spawn is about being a good guy in spite of making a deal with the devil, some of the main themes of Monstrous parallel the ideas Todd McFarlane wove into Spawn.
HCF: What is your favorite Halloween monster or Halloween-themed comic?
It's gotta be Frankenstein's monster. Really, I think monsters and comics go together like peanut butter and jelly. Everybody can relate to monsters because who hasn't felt like an outsider at some point?
And Frankenstein's monster is perhaps the most misunderstood of them all. He's gentle, kind, and intelligent, but his power can be uncontrollable when he or people he cares about are threatened. That feels universal to me. We might all feel like monsters at times, but we can also rise above those feelings to show that the power we have is not misplaced.
All of the themes I just mentioned come out in another Halloween ComicFest story, too: Jughead: The Hunger. Jughead wants to be a good guy, but he's struggling with his uncontrollable monster side as well. Man, that's a great book, and I'm so lucky and honored to have my Monstrous story next to it for Halloween ComicFest!
HCF: What spooky Halloween titles would you recommend to new readers and why?
I am a Halloween-all-year-long kind of guy, so I'm full of spooky comic book recommendations. If you're looking for a darker vampire story, I suggest checking out 30 Days of Night, which reads like a nightmare translated onto the page. But if you'd like a monster story that's more light-hearted—and featuring giant monsters capable of destroying whole cities—I'd recommend Monsters Unleashed. 30 Days of Night has vampires like my Monstrous story does, and Monsters Unleashed provides a similar tone.
And I'll recommend Batman: The Long Halloween, too. It's a year-long story all tied into Halloween, and, like I said, to me that's what defines Halloween: an exciting adventure you can celebrate any time, no matter what the calendar says.
HCF: Where do you plan to spend Halloween ComicFest?
I'm going to be at Coy's Comics in Saginaw, Michigan, so come on over and see me, folks! Coy's Comics is owned and operated by Steve Sharar, and he's also a tremendously talented artist who works on other comic book titles I've written, like Wild Bullets and the Holliston graphic novels. Since the first Holliston graphic novel takes place on Halloween and the second Holliston graphic novel comes out on Halloween, he and I will both be excited to share those comics with everyone during the Halloween season, too.