HCF18 Interview: Crazy Antics and World-Saving Heroics Ensue When Hilo and His Friends Get Graphic
Aug 24, 2018
If you saw something fall out of the sky and crash land on Earth, would you approach it? How about befriend it? Would you take it to school, introduce it to your friends, and help it fight off invading alien robots?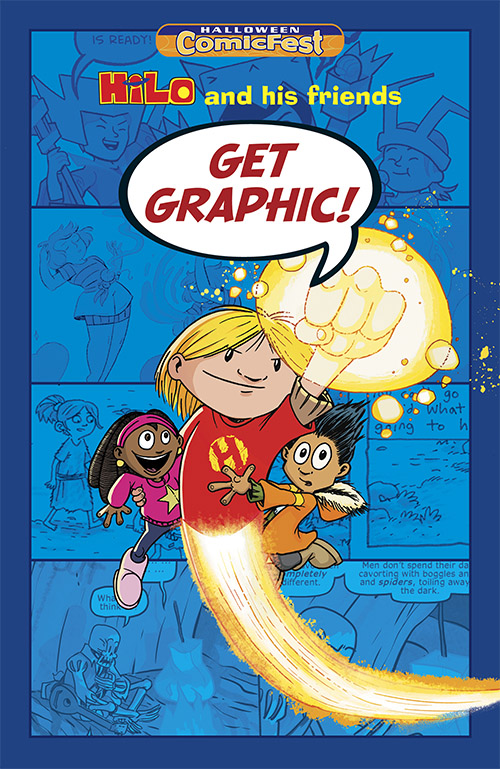 It's a lot to ask, we get it! But if you're up for the challenge, you would fit in perfectly with D.J., Gina, and Hilo! In Random House Children's Books Halloween ComicFest title Hilo and His Friends Get Graphic, D.J., Gina, and Hilo team up to battle alien robots, find out how Hilo ended up on Earth, and uncover the secrets of his past. It's the perfect tale for adventurers of all ages!
Read our interview below with the Marketing Team from Random House Children's Books to find out more about the epic quest that awaits D.J., Gina, and Hilo! And get the inside scoop on what other adventure-loving characters are coming to the pages of Random House's graphic novels! Check out some preview pages below and click here to see the full PREVIEWS Prevue of Hilo and Hif Friends Get Graphic!
You can also click here to look through the full list of comic books available at participating comic shops on Saturday, October 27!
---
Halloween ComicFest: Give us a quick rundown of your story! What can fans expect from Hilo and why should they pick up this book first on Halloween ComicFest?
Hilo and His Friends Get Graphic is an exciting combination of well-known characters in exclusive new scenes. Take a sneak peek into the story of Hilo and fall in love with other graphic novel characters in funny and endearing new situations.
HCF: What makes Hilo unique?
Hilo and His Friends Get Graphic allows readers to get an exciting peek into the first Hilo book while also introducing them to a slew of other funny and adventure-loving graphic novel characters. This comic is full of exclusive content and scenes that will help readers meet some of their new best graphic novel friends in funny and relatable situations.
HCF: Looking to the future, is there anything you can tease about what's coming up for the title and its characters?
Hilo and the other graphic novel characters have a ton in store for them! Hilo's next book releases Spring 2019, and many of the other graphic novel characters have books releasing at some point in 2019.
HCF: Why is Halloween ComicFest the perfect event to debut some exclusive scenes from the upcoming graphic novel?
We thought Halloween ComicFest was the perfect place to debut some exclusive scenes because it's the season of trick or treating! Hilo's arrival on earth is a fun treat, as was the Halloween-themed exclusive scene in our comic. However, our mischievous characters are also always up to some tricks, and we think the Halloween ComicFest readers will appreciate them!