HCF18 Interview: Aspen Mascots Writer Discusses Popular Critters and Puzzling Riddles
Sep 07, 2018
What do a worm, a riddle, and time travel have in common? Seemingly nothing, or at least not much. But you'd be surprised how seamlessly those things work together in Aspen Comics Halloween ComicFest title, Aspen Comics Presents: Aspen Mascots!
In this fun, all-ages activity book readers will solve a collection of puzzles and riddles to help Wormier the worm travel back in time to save his worm village from destruction! Did we mention it's also a coloring book? No?! Well… it's also a coloring book!!! Whew, when they say it's jam-packed, they're not kidding!
Check out our interview below with Vince Hernandez, the writer behind this charming and imaginative all-ages activity book. Then, click here to see our PREVIEWS Prevue of the book! You can also click here to see the full list of comics available at participating retailers on Saturday, October 27th!
---
Halloween ComicFest (HCF): Give us a quick rundown of your story! What can fans expect from Aspen Mascots?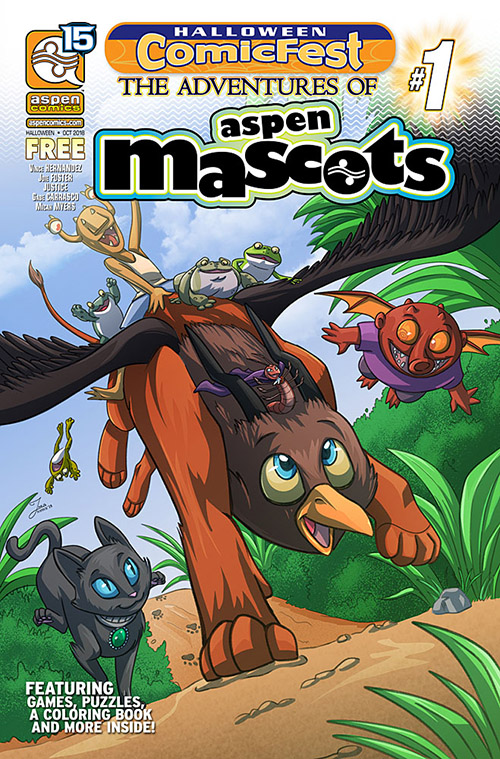 Aspen Mascots features a huge cast of Aspen's most popular critters, animals, creatures—even robots—in one fun-filled adventure centered around a worm that is trying to go back in time and rescue his worm village from destruction! It is our jam-packed activity book for all ages!
HCF: Can you tell us a little bit more about what kinds of Aspen mascots fans will encounter in your comic?
Our longtime Aspen readers will be pleased to see most of our most popular characters including the dragons from Soulfire, Sparkles from Charismagic and even characters from the deepest regions of Shrugged. There's someone—or thing—in the story for every Aspen fan!
HCF: Why is Halloween ComicFest the perfect event to release this brand-new story?
It goes without saying that Halloween is all about fun, our youth, and promoting comics in a way that gets more new readers into comic shops. We couldn't think of a better story to offer customers for free than one that offers a taste of ALL of our favorite Aspen critters!
HCF: Tell us about what kinds of activities fans will find in the pages of you comic!
We have puzzles, riddles and of course the coloring book aspect of the entire book! It's truly an adventure on every page. The team has really outdone themselves each year by creating these fun activities centered on the Aspen Universe.
HCF: Many newcomers will be introduced to comics for the first time on Halloween ComicFest – what was the first comic you remember reading?
The old EC Tales From The Crypt comic book graphic novels were the first comics I read as a kid. I was fascinated by anthologies and horror as a kid, and these oversized digests satisfied both interests!
HCF: Tell us why everyone should read comic books!
Everyone should read comics because there is truly something for everyone in this medium.
HCF: What is your favorite Halloween monster or Halloween-themed comic?
I honestly can't limit it to just one comic as I think Halloween-themed books work all yearlong! However, on the monster front I've definitely developed an affinity for Dr. Frankenstein's monster over the years. His tragic tale will also resonate on a human level, which a lot of narratives in the monster world don't always offer.
HCF: What spooky Halloween titles would you recommend to new readers and why?
Cue the shameless self-promotion, but our Charismagic The Death Princess trade paperback will be in stores in early October, as well as the Aspen Universe Decimation trade, and on Halloween we have Santeria: The Goddess Kiss. All three of these series offer spooky thrills, the supernatural and more. We have Halloween covered!
HCF: Where do you plan to spend Halloween ComicFest?
I'll be with Aspen Comics at LA Comic Con that weekend, so any fans that grab a copy can find me there and I'll sign your copy and help with any riddles they're stuck on!