HCF18 Interview: Kochalka Talks Spooky Fun In Johnny Boo And The Spooky Tree
Oct 16, 2018
If you could have any superpower, what would it be? Flight? Invisibility? How about Boo Power? Or Squiggle Power?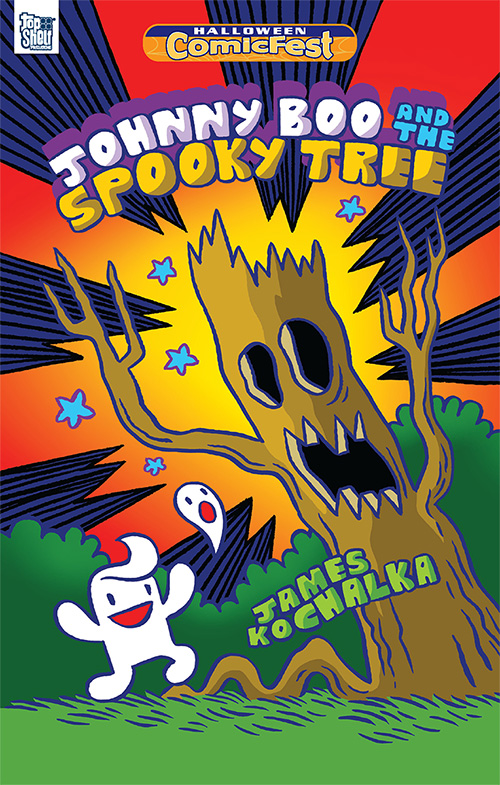 You may be asking yourself, what is Boo Power and Squiggle Power? Find out in the fun-for-all-ages comic, Johnny Boo and The Spooky Tree! Follow the loveable little ghosts Johnny Boo and his pal Squiggle as they go on a silly and spooky adventure to defeat an evil tree with the power of skateboard tricks and ice cream! Johnny Boo and The Spooky Tree makes the perfect treat for trick-or-treaters this Halloween!
Read our interview below with the Eisner-Award-winning creator James Kochalka, to find out what spooky adventures and light-hearted humor fill the pages of IDW/Top Shelf's Halloween ComicFest book, Johnny Boo and The Spooky Tree! Then, make sure to check out the preview pages at the end of the interview and click here to see our PREVIEWS Prevue of the comic! Make sure to check out the full list of comics available at participating comic shops on Saturday, October 27!
---
Halloween ComicFest (HCF): For those unfamiliar with Johnny Boo, how would you describe its universe?
He's a little ghost who lives by a row of bushes! He has Boo Power and his best friend Squiggle has Squiggle Power. They're kind of like superheroes who are totally obsessed with ice cream.
HCF: What can fans expect from Johnny Boo and the Spooky Tree; why should they pick up this book first?
If you want to see a little ghost defeat an evil tree by doing skateboard tricks, I don't think there's any other book in the world that will provide that thrill.
HCF: Why is Halloween ComicFest the perfect event to release this brand-new Johnny Boo story?
He's a little ghost, and it's Halloween. You do the math! Plus, would you rather eat your 200th piece of candy, or would you rather eat a comic book? Wait, don't answer that.
HCF: What are some of your favorite all-ages comics?
I'm a big fan of Dog Man by Dav Pilkey. If you like those books, you'll like mine. I also really like Bug Boys by Laura Knetzger.
HCF: Many newcomers will be introduced to comics on Halloween ComicFest – what was the first comic you remember reading?
It was either Peanuts or Pogo. I loved them both, and both were huge influences on me. Peanuts for simplicity of drawing style and Pogo for word-play.
HCF: Tell us why everyone should read comic books!
Everyone should read comics because they tell totally different kinds of stories than chapter books do. If you really want to see an imagination go wild on the page, cartoonists do it better than anyone.
HCF: Why do you think events like Halloween ComicFest are great for the comic book community?
I just really strongly believe that there needs to more truly great comics for kids. Anything that brings new young readers into comics will benefit the comic book community long term.
HCF: Where do you plan to spend Halloween ComicFest?
I actually haven't made any plans yet! I guess I should get on that.
HCF: All mini comics will be available to purchase in packs of 25 at the beginning of October to give away to trick-or-treaters instead of, or in addition to candy on Halloween. What makes your title the perfect treat for trick-or-treaters?
It's spooky in a fun way, not too scary and really really silly. It's definitely funnier than candy, and you can re-read it hundreds of times. Please don't try re-eating candy.