HCF19 Interview: Junior High Horrors Tackles the Frights of Halloween and Middle School
Sep 13, 2019
Sure, Halloween is scary! But have you ever been to middle school? I think we can all agree that's a pretty frightening place to be. So what would happen if all your favorite Halloween monsters were shrunk down to 12-year old kids and plopped into middle school?
In Keenspot's Junior High Horrors, they tackle that specific question in a hilarious, all-ages parody of Halloween's greatest villains – folks like Michael Myers and Jason Vorhees, among others.
Check out our interview with Junior High Horrors creators, Rob Potchak and Eric Kent, to find out more about what to expect in the pages of this delightfully spooky Halloween comic sure to bring belly laughs aplenty! Keep reading to see some preview pages of this Halloween ComicFest exclusive at the end of the interview!
---
Halloween ComicFest (HCF): Give us a quick rundown of your story! What can fans expect from Junior High Horrors?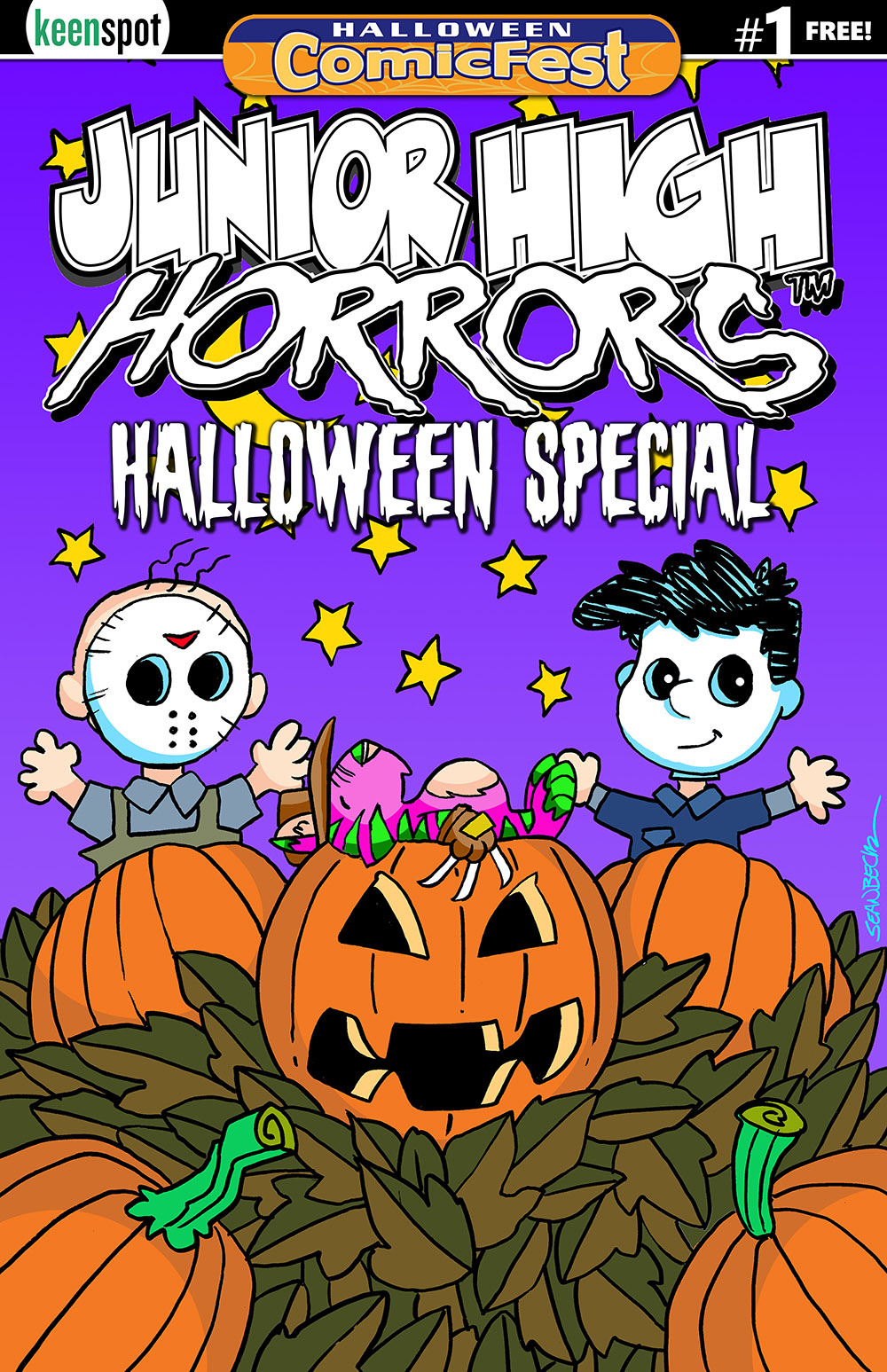 Rob Potchak: Junior High Horrors is the first All-Ages Horror Parody that takes the classic horror iconography and turns them into 12 year old kids. This story in particular deals with Mikey Holiday not wanting to participate in Halloween after previous costumes really hadn't hit the right notes with his friends.
HCF: Tell us more about Mikey and the rest of the gang! What makes these characters relatable to readers?
Potchak: These are all kids that have some quirks, but go through the trials and tribulations of normal middle school. They deal with kids bullying them, and how they band together to overcome the adversity at the end of the day.
HCF: What other comic books would you compare to this title? "If a comic reader likes _______ , they should pick up my title?"
Potchak: Fans of shows or comics like Rick and Morty, Animaniacs, or even just Looney Tunes will understand and enjoy JHH. It's really all-ages in a way that classic cartoons, like Animaniacs was. It allows older readers to see a deeper meaning to the stories the kids go through in their adventures, and also lets them see a lot of Easter eggs placed for their enjoyment if they are truly a fans of who these kids are homages of. Kids to teens will also find enjoyment in the fact that these kids are going through the same things they are.
HCF: Looking to the future, is there anything you can tease about what's coming up for the title and its characters?
Potchak: Parodies of any horror films are definitely in the future, including drawing inspiration from movies like Hellraiser, The Shining, and even more closely to the source material like Friday the 13th (one of the main characters wears a mask and is named JV Lakes). Toward the end of the year, there's also a parody story of one of my favorite holiday classics, called Buy Hard, but we mainly try to keep it in the horror and middle school genres.
HCF: This book features a first in the industry: dyslexic reader friendly fonts. Can you tell us more about this?
Potchak: My sister, who's a mother and a girl scout troop leader, mentioned that one of the parents in her troop had asked if my all-ages title would ever consider making the book "dyslexia friendly," because there was this entire class in the population that has this disorder, and not a single comic book catered to these folks. I asked Billy (Parker, letterer, colorist and pretty much Production Manager of JHH) if it was something that could be incorporated, and within days he showed me pages with the "open-dyslexic" font. It was a little jawing at first, but anything different always is. Knowing a local comic shop owner also had dyslexia, I brought him a preview copy and his reaction made me know that this was something that shouldn't just be done, but it HAD to be done. I'm currently looking at ways to incorporate it into new titles that I write or edit, and have even had book publishers reach out asking if they can use the "dyslexia friendly" logo I created to their novels and collected short stories they have begun adding it to.
Dyslexia affects up to 1/5 people, and many studies show that up to 90% of all mental illnesses stem from dyslexia. This is a massive amount of people who struggle with reading, and comics, a visual medium, was doing nothing to help. This is the first book, but knowing how many people struggle with dyslexia, it can't possibly be the last.
HCF: Tell us a little about you! What initially got you into comics? What is your favorite thing about working in comics?
Potchak: My parents couldn't get me to read growing up, which while never diagnosed, could possibly mean I struggled with mild dyslexia. At one point, they bought me a comic when I was having surgery done at a young age, and I was hooked. My favorite thing about working in comics is telling stories, and having people tell me how much my stories have helped them. Recently, Billy and I were told of a young lady that had been struggling with bullies in school, and how JHH had really reached her. Here I was writing "funny books," and she put a poster of my book on her wall, and it resonated. Made me want to do more. That's about when the open-dyslexic font idea really formed into something else, as well.
Eric Kent: It's all my mother's fault. She used to work for a local magazine distributor and would bring me home stacks of returned comics. So all it took was being a child and then seeing Christopher Reeves as Superman to cement that I had to create comics. There's no better job than being able to craft and create imaginary worlds to play within.
HCF: Many newcomers will be introduced to comics for the first time on Halloween ComicFest – what was the first comic you remember reading?
Potchak: The first comic I remember reading was Amazing Spider-Man #315 by Michelinie and McFarlane. The way Todd drew, I knew I needed more. Then my cousin who had a large collection of comics got me reading things like Dark Knight, Batman: Year One, and I loved Wolverine.
Kent: Batman Annual #9 with the "Four Faces of Batman". Fantastic story.
HCF: What are some titles you're reading today?
Potchak: I read anything by Ed Brubaker (loved Criminal and his Captain America and Daredevil), Geoff Johns (Doomsday Clock is amazing), and Donny Cates (Venom) and I'm a comic art fan, so anything drawn by Jim Lee, Todd, Capullo, Ryan Stegman, Brett Booth, and I'll still pick up anything Frank Miller touches. Really digging a lot of indy stuff, too.
Kent: Like Rob, anything Brubaker writes is magic and I love what Bendis is doing on the Superman books currently. Also, Terry Moore is absolutely magic on anything so I love the SiP continuation of Five Years.
HCF: Why do you think events like HCF are great for the comic book community?
Potchak: Halloween doesn't just have to be about candy (though I still love it, hehe), and an event like this can help someone who didn't know there was a story like JHH be seen for the first time, which can bring more bodies into stores for the first time. Also, HCF can bring attention to retailers, consumers, parents, and kids that there will be a comic out there for friends with dyslexia for the first time, so allowing them to be included, as well!
Kent: It helps bring new readers to new books and that is always a great thing.
HCF: How do you plan to celebrate Halloween ComicFest?
Potchak: I'd love to do a signing with a retailer that is willing to donate a portion of their event earnings to a charity that supports either children or dyslexia. I think anything that can help get the word out, support the community and grab some press for the comics industry is a win-win-win!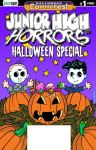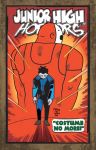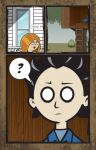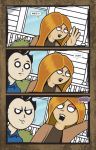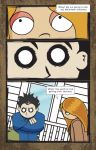 Click to View