HCF19 Interview: Source Point Creators Discuss the Goals of Their Wannabe Super Villain
Oct 16, 2019
What does it take to be a "bad guy?" An evil scheme? Henchmen doing your bidding? An archnemesis? How about membership to an exclusive supervillains club?
For Dastardly Dirk, that last one seems to be the benchmark for achievement in villainy. The only problem is Dastardly Dirk doesn't belong to that club … But when Cthulhu Jr. moves into town, capturing him proves to be his ticket into that exclusive club! But like anything ever, things don't exactly go as planned.
Strap in for a delightful All-Ages tale from Source Point Press that pits good vs. evil and asks where the line is between them in a dynamic preview to the forthcoming novel.
We spoke with creators Dirk Manning (writer) and Scoot McMahon (artist), to get some insight on just how competent of a villain Dastardly Dirk is, and what comics make for the perfect Halloween read! Check out the interview below and keep scrolling to see some preview pages for The Adventures of Cthulhu Jr. and Dastardly Dirk!
Don't forget to head to your local comic shop on Saturday, October 26 to celebrate Halloween ComicFest with FREE comics and all kinds of Halloweeny fun!
---
Halloween ComicFest (HCF): Give us a quick rundown of your story! What will readers need to know before diving into your Halloween ComicFest issue? Who are the characters and what's the storyline?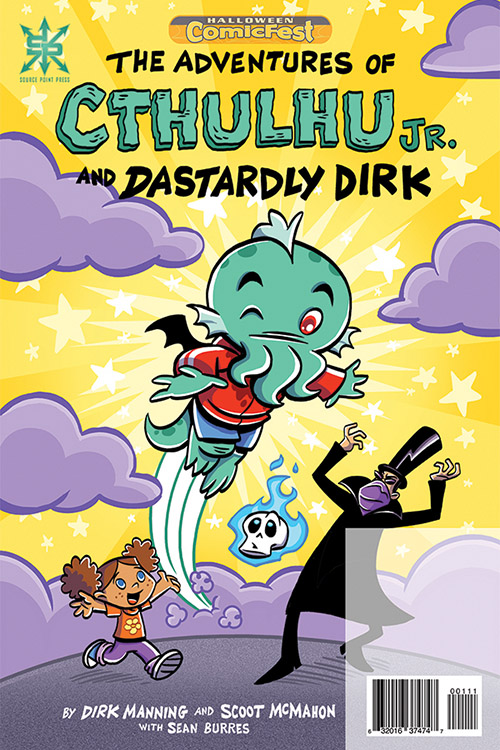 Dirk Manning: I think it's all there in the first issue, but in short Dastardly Dirk is a wannabe supervillain of sorts who desperately wants to be admitted into the League of E.V.I.L., and he has to capture the son of Cthulhu to prove his worth.
Scoot McMahon: Yeah, Dirk summed up the story best! The main characters are Dastardly Dirk, the wannabe villain, his bone-headed buddy Aloysius, Dirk's wife Karen and daughter Penny, and the cast of Halloween appropriate baddies that are sure to make you smile. Also, the lovable, green-skinned monster JUNIOR is so cute you won't be able to resist him!
HCF: Let's talk about Dastardly Dirk… On a scale of 1-10 (10 being very successful, 1 being not at all successful), how successful of a supervillain in Dastardly Dirk?
Manning: Even though he is not me – at all – I will defer to Scoot on this one so I don't seem biased.
McMahon: Well, he's not really a supervillain YET! He's trying to earn that in this issue, but I think after reading this you'll have a good idea where to rank him.
HCF: Talk about the themes of this book and what you want younger readers to take away from it?
McMahon: There are a few themes here. One is to not judge a book (or monster) by it's cover. Get to know someone first, learn about them and who they are before you try and destroy them.
Manning: I think a big message is being true to yourself and who you are, too… even if it's not the "cool" thing to do.
HCF: What did you enjoy most about writing/drawing this comic?
Manning: Scoot is an absolute blast to collaborate with – and it's always a very seamless collaborative process. We put the initial pitch together over an order of chicken wings, and then plotted the whole five-issue arc of Volume 1 on a short drive to a convention. Things just "click" that well when we start talking about the book.
McMahon: Yeah, Dirk and I are both really open to hearing each other's ideas. We don't always agree on the details but we respect and trust each other enough to take chances and I think that's what I enjoy most about writing/drawing this comic!
HCF: Looking to the future, is there anything you can tease about what's coming up for the title and its characters?
McMahon: Halloween night. These characters will experience Halloween and it's going to get pretty wild!
Manning: We also are already bouncing around ideas for Volume 2, as well!
HCF: Tell us a little about you! What initially got you into comics? What is your favorite thing about working in comics?
McMahon: I was really into cartoons as a kid. Disney afternoon shows like Ducktales and Darkwing duck, followed by The Real Ghostbusters and eventually my favorite show Batman The Animated Series. But the cool thing about cartoons was that there were comics based on these shows! So, cartoons got me into reading and drawing comics! My favorite thing about working in comics is telling stories that would have inspired me as a kid and tapping into that child-like energy every time I draw!
Manning: I grew-up a voracious reader and decided to give comics a chance when I was an early teen because I was enthralled with the idea that – if I found a series I liked – there'd be more content every month! I then quickly grew to love the medium itself and how there are storytelling devices you can use in comics that you can't use anywhere else.
HCF: Tell us about the inspiration behind this adorable all-ages horror/adventure story!
McMahon: The inspiration for me was to collaborate with Dirk, who I became friends with after running into him at multiple shows in Northwest Ohio. I'm a cartoonist, so I write and draw almost all of my books, so this was a good opportunity for me to work with a fantastic writer!
Manning: As the writer/creator of series such as NIGHTMARE WORLD and TALES OF MR. RHEE, I'm primarily seen as a pretty spooky horror writer to begin with… but I also see the value in creating comics for all-ages, and that's what I wanted to do here. I cannot stress enough that this is not a "kids" book – bur rather genuinely an "all-ages" book that kids and adults will read and enjoy for different reasons.
HCF: What is your favorite Halloween monster? Favorite Halloween/horror-themed comic?
Manning: I'm a huge fan of the Creature from the Black Lagoon, and my favorite Halloween-themed comic that I'm not involved with in any way is easily Eric Powell's THE GOON.
McMahon: My favorite Halloween monster is any type of cartoon mummy. My favorite horror-themed comic is Spooky Sleepover by Dave Scheidt and Jess Smart Smiley!
HCF: Tell us why comic books are perfect for fans of Halloween and/or the horror genre!
Manning: To quote the late, great Harvey Pekar, comics are words and pictures, and you can do anything with words and pictures! Considering this, what better gift for Halloween is there than that? (A full- sized Zagnut bar coming in as a close second.)
McMahon: Comics (especially this one) are perfect for fans of Halloween because they take you to that magical, mysterious place where anything is possible.
HCF: How do you plan to celebrate Halloween ComicFest?
McMahon: I'll be signing copies of this comic and drawing monsters for kids at a local comic book shop!
Manning: I'm a huge supporter of local comic shops and comic cons, so every year I'm either at a convention or doing a free signing at a local comic shop. Supporting those who support comics – and paying it forward – is very important to me, especially during events such as Halloween ComicFest that are designed to shine a light on comics for everyone!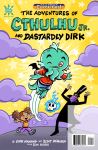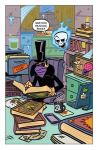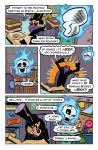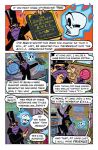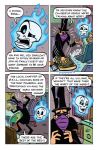 Click to View