Lion Forge Creators on How Everyday is an Adventure with Wrapped Up
Oct 06, 2022
Being a kid is hard enough, but add the fact that you and your family are mummies? Well, then you might start to understand just how hectic Milo's life is: between his parents, his best friend (a wizard, no less!), and his step family, Milo has his hands full growing up. It's not hard to see why Milo might feel like the only sane person in a crazy world. Wrapped Up artist Scoot McMahon--who also illustrates PREVIEWS' Comic Shop Tales--chatted with us about Milo joining the Halloween ComicFest family.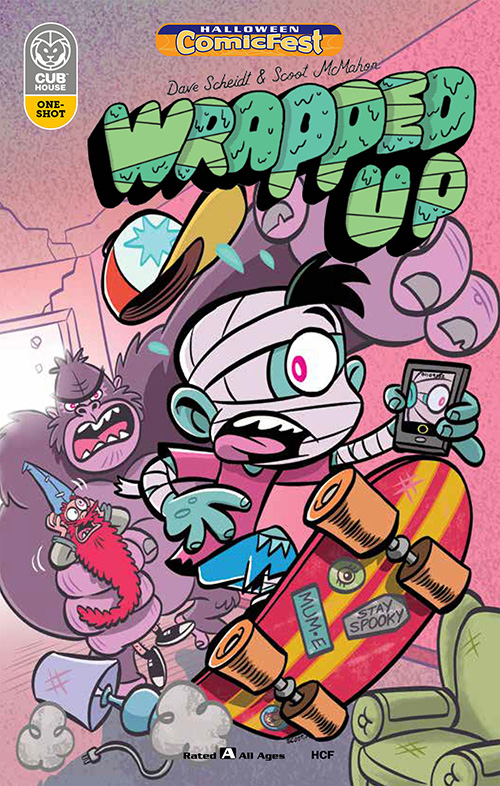 Wrapped Up
ALL AGES
LION FORGE
(W) Dave Scheidt
(A/CA) Scoot McMahon
Meet Milo, a regular kid like you and me, but he's also a mummy. His best friend is a wizard and they love eating pizza and just hanging out. Did we mention that Milo's family are also mummies? Wrapped Up is a story about growing up and feeling like the only sane person in a crazy world. This a preview of the new up-coming monthly comic from Cub House debuting this October.
---
Halloween ComicFest: Aside from mummies and giant gorillas, what else might be different about the world of Wrapped Up compared to our own?
Scoot McMahon: It's kind of the world from a kid perspective. We see the world through Milo the Mummy's eyes. Everyday is an adventure and hopefully the Wrapped Up world will give readers a cartoony, video gamey vibe where anything is possible, no matter how outrageous or ridiculous.
Dave Scheidt: Yeah, Like Scoot said it's very much from the perspective of feeling like the world around you is just completely absurd and you are the only one who notices it. That was sort of how I felt when I was younger so we really try to hone in on the weirdness of growing up in a weird family and really celebrating being different. Even if that means having to fight off loved crazed gorillas or break an ancient pizza curse or rescue your family from a Sasquatch.
Lion Forge has made it a point to develop more titles in its Roar/Cubhouse imprint—how does Wrapped Up set itself apart from the other All Ages fare?
McMahon: For me, it's the characters who star in Wrapped Up that will set this book apart. Dave and I write and draw these crazy stories and develop insane situations for Milo and company to deal with. Hopefully, amidst the chaos, our characters will be what younger readers latch onto and become lifelong comic readers as a result!
Scheidt: I think the number one thing you need to do when writing stories for kids is really treating them just as seriously as you would an adult reader. You can't dumb stuff down for them or assume things they will find funny or interesting just because they are kids. We are really living in such an amazing time for all ages comics and It's an honor to be able to carry on the tradition of making funny, weird and gross comics for a younger generation of readers. Wrapped Up is a book Scoot and I would have loved to have as a kid so this is sort of like our way of paying tribute to all the great comics and cartoons we had growing up and keeping that vibe going.
Why should fans pick your comic first on Halloween ComicFest 2017?
McMahon: It's the perfect Halloween book! A mummy, a wizard and a Gorilla tearing up a house in the suburbs. If that doesn't get you pumped for Halloween I don't know what will! Also, this is the introduction the Milo the Mummy and his world. Read this book first! It's the perfect jumping on point for kids and adults! BUT really, pick this book up for the artwork ;) Seriously though, Sean Dove's colors are perfect and really bring the characters to life!
Scheidt: Because Scoot and Sean and I are incredibly funny and handsome and strong and creative and you will never read a better comic. There is no way I am overselling this.
What got you reading comics? What are some series you're reading today?
McMahon: Cartoons got me into reading comics. I wasn't a big reader as a kid but I loved cartoons! I loved to DRAW and copy cartoons! So, I was always attracted to the cartoony books. Visual literacy was important to a kid like me who was overwhelmed with the amount of words staring back at me from the pages of your average chapter book. After reading comic after comic, I didn't mind those chapter books so much... I even grew to love those too!
Of course, I'm still attracted to cartoon books today. I love reading stuff from my pals Art Baltazar and Franco. Their latest book Super Powers for DC comics was so good! I also just read Action Lab's Monty the Dinosaur by Bob Frantz and Kyle Starks' Rock Candy Mountain books are awesome as well (but not for kids)!
Scheidt: My dad is a lifelong comic reader so that more or less rubbed off on my brother and sister and I. We also had cool stuff in the house that help me refined my impeccable taste. I love all the comics coming out from the Hellboy universe and I've been really into Judge Dredd stuff lately. I just read Five Worlds: The Sandwarrior from First Second and that blew me away. I also really dig this webcomic called Grimfish by Aaron Pittman.
What spooky Halloween titles would you recommend to new readers?
McMahon: Well, probably Dave Scheidt and Jess Smart Smiley's Spooky Sleepover. It's a funny, great-looking book that really captures the Halloween mood. I like this book, I really do. I'm not just saying that because Dave is standing behind me staring at me. This is weird.
Scheidt: I can go on about spooky comics for years but I'll just list a bunch of my favorites. Any Hellboy, Harrow County by Cullen Bunn and Tyler Crook, Ghosts by Raina Telgemeier, Anything by Junji Ito, Beasts of Burden by Evan Dorkin and Jill Thompson. Nailbiter by Josh Williamson and and Mike Henderson, Upside Down by Jess Smart Smiley is really good.
Why do you think events like Halloween ComicFest are great for the comic book community?
McMahon: These events always help bring in new readers. Especially young readers. Like free comic book day, there will be something available for everyone and it's a great jumping on point for new readers or kids who may not like to read, like young Scoot. I wish I had a Halloween Comic Fest as a kid! Boy, you kids have it great! I tell ya!
Scheidt: What I love about Halloween is that it's the only holiday that really focuses on entire communities instead of just your family and friends and so much of what makes comics so great is the community surrounding it, so it's a great fit! It's a great way to introduce people who are new to comics and still appease the people who have been reading them for years. Plus there is a huge chance that candy will also be involved and that makes me very happy. Please give me gummies and Reese's Peanut Butter Cups.
What do you think comic shops bring to the comic book community?
McMahon: Comic shops are the voice of the comic book community as a whole! They buy and sell our books and create fun, inviting places for customers to experience and read them. Comic Shops promote our books every day!
Scheidt: Comic shops just like comic books bring people together. It gives people somewhere to hang out, discover new things, find collaborators, jobs, friends, colleagues, partners. I wouldn't be where I am today without all the amazing and radical people who run and work and shop in comic book stores. We are very lucky to have such a dedicated group of people. Comics are the best.