New Characters and New Adventures Abound in Zombie Tramp
Oct 13, 2022
You know what they say about karma... what goes around comes around. And that certainly seems to be the case for Zombie Tramp (formerly known as Janey), the ex-call girl turned Murderous undead witch. She just can't seem to stay out of trouble as she searches for answers about she came to be a zombe. In this Halloween ComicFest exclusive, Zombie Tramp finds herself really up against as she squares off against Doll-Faced Witch Hunter, Action Lab's newest addition to their line up of characters.
Halloween ComicFest sat down with Action Lab's Dan Mendoza to discuss the ongoing adventures of Zombie Tramp, the addition of new characters, and how this story is right at home in the horror genre! Check out the interview below and read through the digital comic here.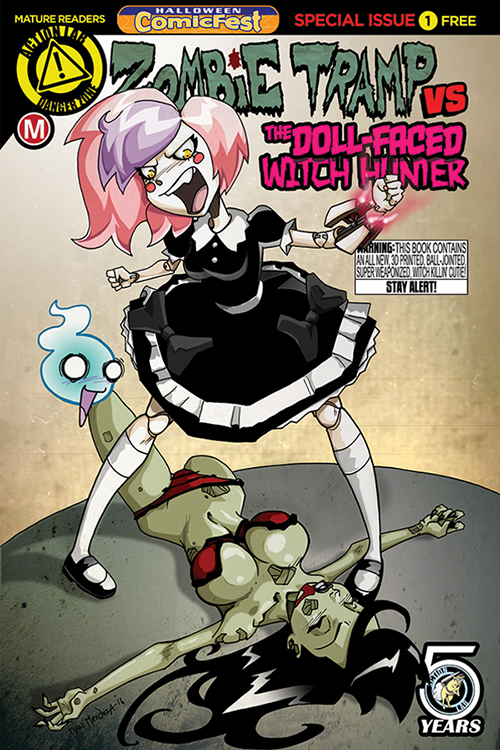 Zombie Tramp vs. The Doll-Faced Witch Hunter
Action Lab
Mature Reads (18+ content)
---
Halloween ComicFest: For those unfamiliar with Zombie Tramp, how would you describe it?
Dan Mendoza: Zombie Tramp is a dark comedy, horror action title about an ex-call girl, turned Murderous undead witch that travels across America searching for answers to what she has become. In her travels, Janey/Zombie Tramp attracts nothing but bad karma and bad people of the world, including people from her past that had destroyed her life. This is not a "zombie virus outbreak" book, it's more of an exploitation, slasher film, where you root for the bad guy that is Zombie Tramp.
Where did the idea for Doll-Faced Witch Hunter come from?
Mendoza: I've always been fascinated by Lolita and Gothic Lolita characters in Anime and Japanese culture. Those cute but dangerous characters in frilly dresses look are visually stunning to me. Also for about 3 years now, I've really been getting into the Ball Jointed Doll (BJD) culture. They are so articulate and beautiful and about a year ago, I was asked if I wanted to expand on the Zombie Tramp universe with a new character like we did with Jason Martin's Vampblade. A Witch hunter maybe? Right away, it all clicked in my head. What about a Gothic Lolita, Ball Jointed, Witch Hunter? And Doll Face was born.
What's the most rewarding part of doing both the story and art for the book?
Mendoza: I'd say the most rewarding thing about writing and drawing a book is that I have full control. Everything I think of and visualize in my head, turns out in just that way. It brings me back to the days when I first started Zombie Tramp. I would just sit at a table and regurgitate every thought from my brain.
What can fans expect from Zombie Tramp vs. The Doll-Faced Witch Hunter; why should they pick your comic first during the event?
Mendoza: For fans of the Zombie Tramp series, I'd say it's a no brainer. You'll definitely love this title. If you have never read a Zombie Tramp book in your life, then that's ok too. This title has a standalone feel and headlines Doll Face as a great new character that people will find original and interesting.
Why is Halloween Comic Fest the perfect event to debut this title?
Mendoza: Halloween of course. I love Halloween and making characters to fit a Horror genre. This title is no different.
What are some of your favorite Halloween movies or monsters?
Mendoza: It's got to be great slasher characters like Jason, Freddy, and Chucky. To me those are the big three. My favorite horror movies are films like, Ginger Snaps, Orphan, Dolls, Sweeny Todd, Troll, Basket Case… the list goes on and on.
If fans enjoy Zombie Tramp vs. The Doll-Faced Witch Hunter, what other comics would you recommend?
Mendoza: Other titles I think fans would enjoy if not buying them already are, Vampblade, Puppet Master, and Blood & Dust.