Goosebumps Author R.L. Stine Brings Horror-Comedy to Halloween ComicFest
Oct 18, 2022
If you're a 90s baby, chances are you know who R.L. Stine is and you've had your hands on a book in his beloved Goosebumps series at least once. Well now, R.L. Stine is bringing his signature horror-comedy style to comic book world with the BOOM! Studios anthology series, Just Beyond!
In the exclusive Halloween ComicFest preview, Just Beyond: Horror at Happy Landings, two Martian siblings find themselves in need of the "services" of two human siblings. And by services, we mean taking over their human bodies. But a series of unforeseen setbacks leave the Martian siblings at risk of being stuck on Earth – and as humans – forever.
Check out our interview with beloved writer R.L. Stine to get in the inside scoop on his newest comic book project. Read the full comic book here!
---
Halloween ComicFest (HCF): Tell us more about these Martians! What makes them characters the reader will want to root for?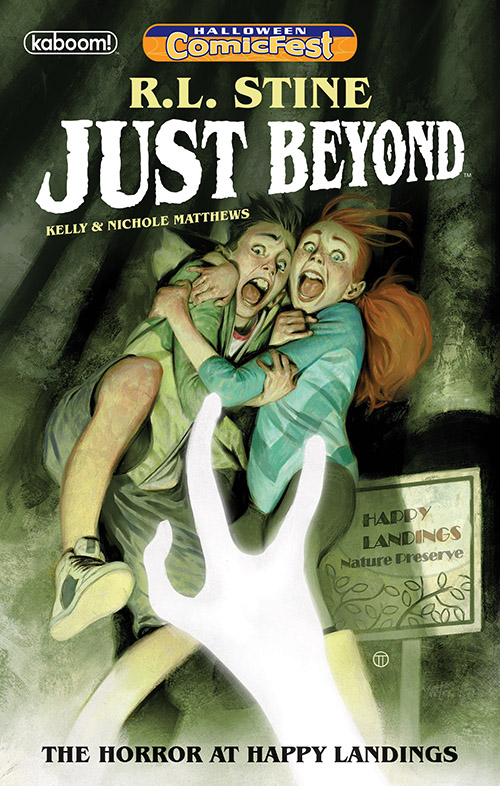 Zammy and Juniper are two Martian kids who get on the wrong shuttle. Instead of traveling to school, they travel to Earth. They are alone and confused and desperate to get home. The only way they can survive is to take over the bodies and minds of two Earth kids. But this makes life even more complicated.
HCF: Talk about the themes of this book and what younger readers can take away from it?
My stories almost never have themes. There are no lessons to be learned, no moral guidance. They are about the fun of reading. Pure entertainment and nothing else. Readers can take away some thrills, some tense suspense, some laughs, and many twists and surprises.
HCF: What other comic books would you compare to this title? "If a comic reader likes _______ , they should pick up my title?"
If a reader likes Goosebumps books, he/she will enjoy my graphic novels. I try to have the same mix of humor and horror.
HCF: Looking to the future, is there anything you can tease about what's coming up for the title and its characters?
Just Beyond is an anthology series, so you never know what the next one will be like. I'm thinking of doing a very basic monster story for #3. Maybe a swamp monster. I like swamp monsters. Not sure why.
HCF: Tell us a little about you! What initially got you into comics? What is your favorite thing about working in comics?
I was a comic fanatic when I was a kid. It's all I read. I loved MAD comics and the EC horror comics. They were a big influence on me. I had catholic tastes. I read Dick Tracy, Looney Tunes, The Lone Ranger. I loved Lash LaRue, a cowboy who carried a big bullwhip.
HCF: Many newcomers will be introduced to comics for the first time on Halloween ComicFest – what was the first comic you remember reading?
Probably Donald Duck. I'm a huge Disney fan to this day.
HCF: What is your favorite Halloween monster?
I'm thrilled by how many kids go out as my creation, Slappy the Dummy, on Halloween. What an amazing thing. I get dozens of photos as kids dressed as Slappy. I think I've sold more red bowties than anyone in history!
HCF: Tell us why comic books are perfect for fans of Halloween and/or the horror genre?
Together, a good story and good art create a wonderful reading experience you don't get from just one or the other. My whole career is about scaring kids-- and getting them to read. If the comic format gets them into reading, I'm all for it. I'm in favor of kids having fun.